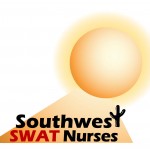 FAQs
How long is the duration of a travel contract? – Most contracts are 13 weeks, the industry standard.  Other intervals are available per facility postings.
When can I begin a contract?  – You may begin a contract upon accepting an offer from the facility where you were submitted, passed an interview, were chosen for the offer and are presented a start date.
How often is payroll frequency?  – Weekly by direct deposit.
Is there a daily pay option? – Yes, you can receive a portion of your wages after confirmation of a completed full shift is received, usually within 2 hours of shift end.
I'm an RN, is my application and assignment process managed by recruiters or office clerks ? – No, all travel RN assignments are fully managed by a clinical manager, all are licensed RNs.
When do benefits initiate? – Upon a start date @ the contracted facility.
What states can I travel to with SOUTHWEST SWAT NURSES? – All U.S. states including Alaska and Hawaii.
---
Be a SWAT NURSE today!  Call to speak with a licensed RN clinical director about your next travel position!
1 – 888 – SWATICU  //  1 – 888 – 792 – 8428
Email:  notifications@swatnurse.com
AMERICA'S BEST CRITICAL CARE RNs℠