Phoenix, Arizona:  Bring your T's, bring your Tommy Bahamas, bring your best practices and your fine skills to Phoenix.  You will be stung with the finest wages, a toxin-free lifestyle, and the best place in America to come out at night….
*FALL* 2017 !  Superbly qualified and tenured RNs please – All units, all shifts, all the time !
Your assignment with SOUTHWEST SWAT NURSES will be RN-to-RN managed by nurses with more than 30 years of critical care travel-RN experience.  Nursing opportunities are offered at hundreds of hospitals nationwide in the Southwest, New England, the Rocky Mountains, the Montana wilderness or NYC.  Superb amenities include private corporate housing, medical, dental, vision and bonuses.  Day-1 benefits are standard, spouse and colleague co-housing is available.  Challenging opportunities are offered to RNs who demand job stability and unmatched potential! Call 1-888-792-8428 to learn more about our critical care and travel nursing positions.
Nationwide 13-week Travel Nursing Careers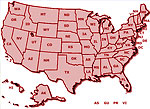 1-888-SWATICU- 24 Hours
1-888-792-8428